---
Professional production and sales of stainless steel IBC ton barrels, stainless steel ton cans, stainless steel container barrels, customized processing of various metal containers and products
---
Yantai Haizheng Metal Products Co., Ltd., founded in January 2016, is located in Yantai, a beautiful coastal city. Its geographical location is superior, transportation is convenient, and shipping conditions are unique. The company is committed to the design, research, development and production of stainless steel ton barrels and various stainless steel containers. At the same time, it actively absorbs advanced technologies at home and abroad, combines its own experience in serving customers for more than 20 years, and takes customer demand as the guide, forming the product features of reasonable structure, high performance-price ratio, good comprehensive performance, and long life, which has been unanimously praised by customers! The stainless steel ton bucket, insulation tank, heating tank, powder tank, medicine tank, ink tank, polishing tank, etc. produced by the company are widely used in chemical, pharmaceutical, food and other industries, and are exported to Japan, Europe, America, Southeast Asia and other countries all year round, with a high market share!
---
The pursuit of product excellence makes our products unique in performance

---
⊙ With a professional design, production and after-sales service team, the company will take a new management mode, perfect technology, considerate service and excellent quality as the basis for survival, and always adhere to the principle of customer first and serve customers with heart!

Advanced production equipment
---
The company has large plate shears, bending machines, rolling machines, lathes, drilling and milling machines, argon arc welding machines, second protection welding machines and other precision CNC processing equipment.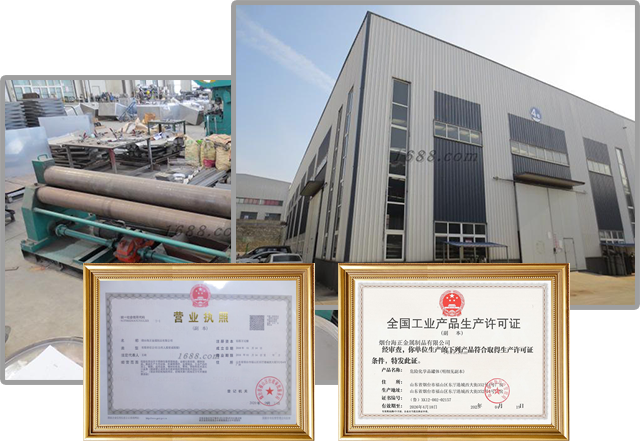 Superior geographical location
---
Located in Yantai, a beautiful and rich coastal city, it connects Weihai to the east, Weifang and Qingdao to the west, the Yellow Sea to the south, and the Bohai Sea to the north, providing each customer with economic, high-quality and satisfactory products.

---
⊙ As always, we firmly pursue the competitive core of "quality and high quality", improve our service with heart, develop and progress together with customers.
---
Professional production and sales of stainless steel IBC ton barrels, stainless steel ton cans, stainless steel container barrels, customized processing of various metal containers and products
High quality products
The main products are stainless steel cans, stainless steel ibc ton barrels and sheet metal processing, stainless steel polishing, stainless steel pickling and passivation, etc.
Your satisfaction is our goal
---
Professional production and sales of stainless steel IBC ton barrels, stainless steel ton cans, stainless steel container barrels, customized processing of various metal containers and products